Order the SRC for Ford Vans…
and the SRC-GM for GM Vans
*** The SRC has been discontinued but will be produced in a special run of 16 or more units ***
The SRC Rotary Crane was designed to pivot in an upper and lower anchor. For use with a Service Van, the anchors are mounted to the floor and ceiling of the Van allowing the SRC Rotary Crane to pivot out of the back of the Service Van. The service technician can arc its boom over heavy loads, such as riding mowers, and easily lift either end for servicing blades, belts etc. For industrial applications the SRC can be mounted to any fixed structure for a variety of uses, such as workpiece handling in Machining Centers, Lathes and Milling Machines, putting items into dip tanks or assisting in repair or assembly.
Interchangeable Standard Pump

Pump handle positioned to allow the operator to operate the hydraulics while guiding the load

Rugged Construction… Post made with 2.375″ OD heavy wall tubing 49″ long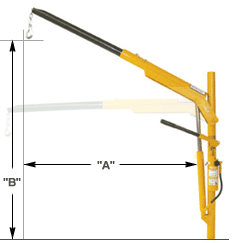 SRV Dimensions & Capacity
SRC-ZB
Hook
Slide Boom
Position 2
Slide Boom
Position 3
Capacity
800 lbs.
600 lbs.
450 lbs.
"A" Hook to Cylinder Distance:
Boom Angled Down (45°)
15"
32"
39"
Boom Horizontal
23"
44"
56"
Boom Highest Point (30°)
19"
37.5"
48.5"
"B" Hook to Bottom of SRC:
Boom Angled Down (45°)
11"
-2"
-11.5"
Boom Horizontal
32"
34"
34"
Boom Highest Point (30°)
46"
57.5"
63"
SRC-ZB Boom/Hook Adapter: Special adapter allows close lifting at a higher 800 lbs. capacity. With this arrangement, items can be swung directly into a van such as electric motors, cylinders, generators, etc.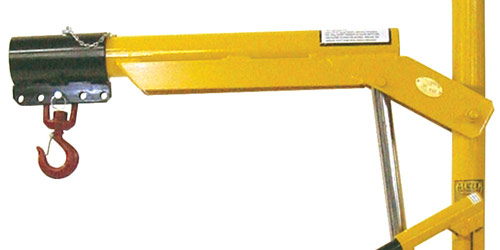 SRC-ZA Universal Anchor Set: Set includes two anchors that are constructed with 3″ angle iron 6″ long. Four convenient 1/2″ holes space 4.5″ apart allow for different anchoring methods.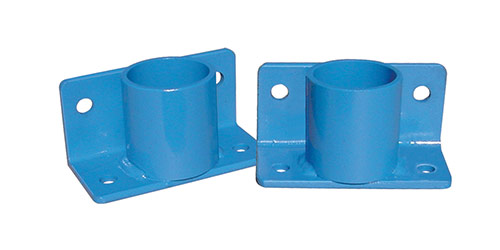 Weights: SRC: 122 lbs | SRC-ZA: 10lbs | SRC-AB: 10lbs